Original Engineering Team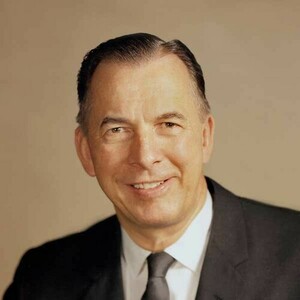 Ed Cole, Chief Engineer
"Father of the Chevrolet Small Block V8"
Edward Nicholas Cole was born September 17, 1909 in Marne, Michigan to Frank and Lucy Cole. As a young man, Ed's ambition to become a lawyer led him to attended Grand Rapids Junior College to begin the pursuit of his legal career. However, after a summer job with Hayes Body Corporation sparked his interest in the automotive industry, Ed enrolled in General Motors Institute in 1930 at age 21. GMI, now Kettering University, was a co-op engineering school where he was sponsored by the Cadillac Division of General Motors. Taking notice of his exceptional talent, Cadillac hired him prior to graduation and assigned him to a special engineering project. After WWII, he was promoted to Chief Engineer where he co-led the team that developed the 1949 Cadillac 331 V8. He worked for Cadillac until being promoted to Chief Engineer at Chevrolet in 1952. He was promoted again to General Manager of Chevrolet in 1956. Ed became General Motors Executive Vice President in 1965 and President in 1967. After 44 years, he retired from General Motors in 1974. At the time of his retirement, he held 18 different patents. Ed was the husband of Dollie and Esther Cole and father of David E. Cole. Ed died May 2, 1977 at age 67 when the small plane he was piloting was downed by inclement weather near Mendon, Michigan. He was en route to Checker Motors Corporation in Kalamazoo where he had assumed the role of chairman and CEO. Ed was inducted into the Automotive Hall of Fame in 1977 and the Corvette Hall of Fame in 1998.
"If we find a better way, let's kick the hell out of the status quo. The fact 'we have always done it this way' is the best reason I know to take a particularly close look at a system or procedure." -Edward Nicholas Cole
Zora Arkus-Duntov, Engineer
"Godfather of the Corvette"
Zachary (later Zora) Arkus was born December 25, 1909 near Brussels, Belgium to Jacques and Rachel Arkus. His parents later divorced and his mother married Joseph Duntov, an electrical engineer. Out of respect for both men, Zora and his younger brother Yura kept the Arkus-Duntov name. When his family moved to Berlin in 1927, Zora took interest in racing motorcycles and then cars. Pursuing his automotive interests, Zora later graduated from the Charlottenburg Technological University, now the Technical University of Berlin, in 1934, with a degree in mechanical engineering. While in Berlin, Zora met his wife Elfi and the two married in 1939. After WWII, Zora and family came to the Unites States where he and his brother started Ardun Power Products, manufacturing performance conversion aluminum OHV cylinder heads for the Ford flathead V8. Zora first saw the Corvette in 1953 while on display in New York City at Motorama, the General Motors auto show. Zora was so intrigued he wrote a letter to Ed Cole expressing the changes he felt necessary to make to the Corvette not only stylish but a performance car as well. Impressed by his letter, Cole and fellow engineer Maurice Olley invited Zora to meet them in Detroit. Zora was hired later in 1953 as an assistant staff engineer. Soon after, Zora penned the now famous internal memo "Thoughts Pertaining to Youth, Hot Rodders and Chevrolet". He called for the development of a performance engine for the Corvette and also that performance engine and chassis components be made available to the public. Read here…
"Since we cannot prevent the people from racing Corvettes, maybe it is better to help them to do a good job at it." -ZAD
Other members of Ed Cole's engineering team included Clayton Leach, Don MacPherson, John Dolza and Loren Papenguth.